FOR IMMEDIATE RELEASE:
Wednesday, November 23, 2022
MEDIA CONTACT:
Bethany Khan: bkhan@culinaryunion226.org ▪ (702) 387-7088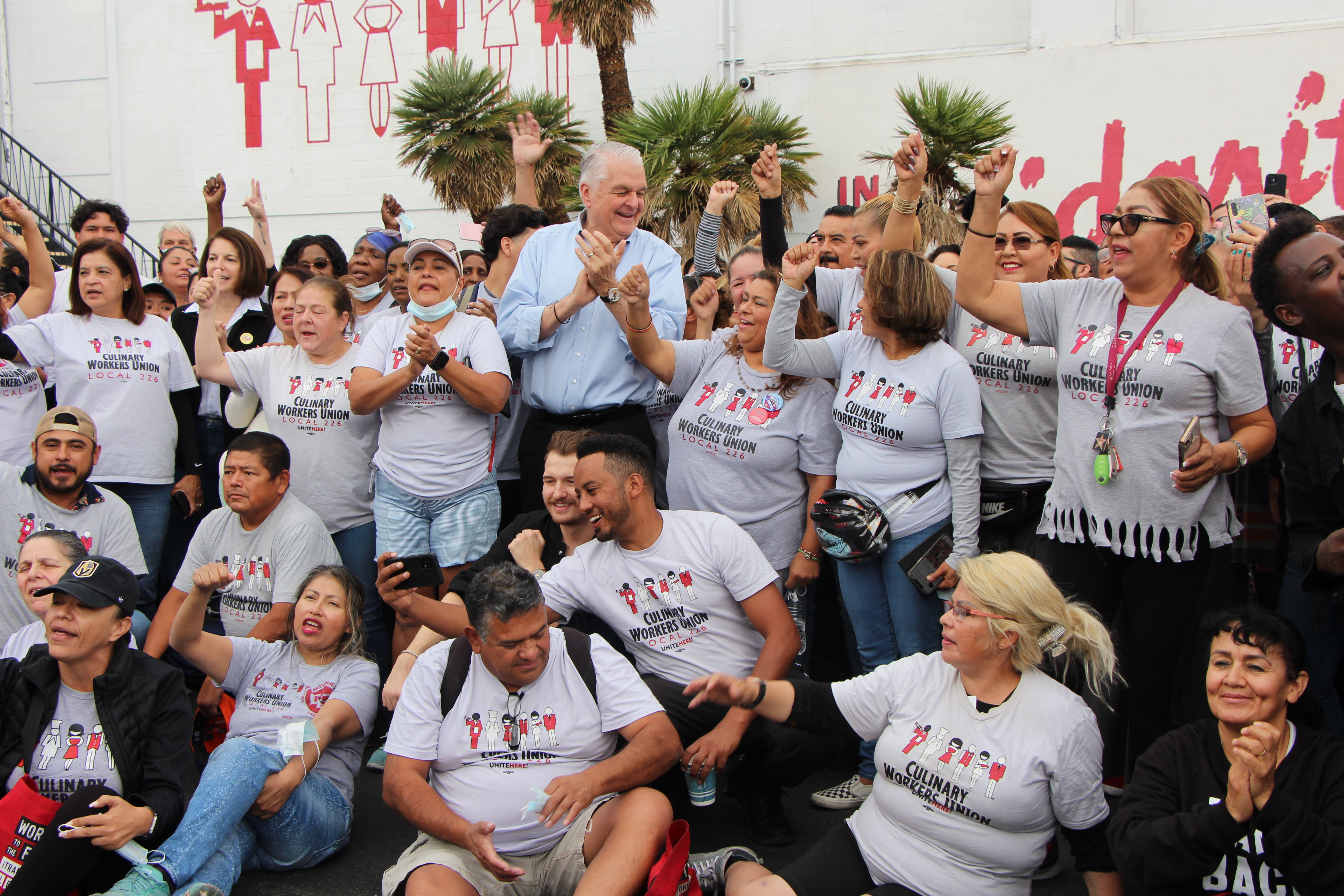 STATEMENT by Culinary Union Secretary-Treasurer Ted Pappageorge: Thank you, Governor Sisolak -
Governor Steve Sisolak has been a champion for working families in Nevada and Culinary Union is proud to have worked alongside one of the most pro-worker Governors in our state's history to end surprise bills, expand health care transparency, increase patient protections, strengthen workers rights, enact criminal justice reform, address housing affordability, increase regulations on short-term rentals, strengthen tenant protections, support immigrants and New Americans, and make it easier for Nevadans to vote and participate in democracy.
During the COVID-19 pandemic, Governor Sisolak protected Nevadans and our jobs by signing SB4 The Adolfo Fernandez Bill and SB386 Right to Return into law.
SB4 was the first - and remains the only - COVID worker safety statewide law. It protected over 280,000 hospitality workers in Clark County and Washoe. Adolfo Fernandez contracted COVID-19 after being employed as a utility porter on the Las Vegas Strip and passed away in late June 2020. The historic piece of legislation that Governor Sisolak signed into law protected all workers in the hospitality industry in Las Vegas and Reno - wall-to-wall, front-of-the house and back-of-the house, union and non-union, worker and manager - from the Bellagio to Motel 6. A majority of workers covered by this law were not unionized.
SB386 was a commonsense solution to ensure workers had the Right to Return to their jobs as business reopened, but wealthy corporations and every single Republican in the Nevada Legislature fought against it. The Culinary Union is grateful to Governor Sisolak for his leadership and for signing SB386 into law which protected over 350,000 hospitality workers in Clark County and Washoe.
Governor Sisolak stood up against major industries and corporations to protect essential frontline workers and saved countless lives from the spread of COVID-19 in workplaces. Behind every worker in this state there is a family and Governor Sisolak worked with the Culinary Union to enact the best safety standards for all workers in the state's largest industry. 191 Culinary and Bartenders Union members and/or their immediate family members passed away from COVID-19 since March 1, 2020 and there would have been many more if not for Governor Sisolak's courage and actions to put our lives over politics. Governor Sisolak was there for workers when we needed him the most and we know he continues fighting for us now.
With a big heart and extraordinary leadership, Governor Sisolak led us through one of the most difficult periods in our lifetimes and workers are grateful to have had a Governor who truly cares for guest room attendants, cocktail and food servers, porters, bellmen, cooks, bartenders, laundry and kitchen workers. We could not have made it through the pandemic without Governor Sisolak's tireless efforts and we applaud him and his entire team who worked alongside the Culinary Union to fiercely advocate for working families. The Culinary Union also commends Governor Sisolak for leading the fight in our state against Wall Street landlords who are taking over our neighborhoods, for committing to Neighborhood Stability and the campaign to win secure and stable neighborhoods, and for being responsible for bringing our economy back stronger than ever. Under Governor Sisolak's guidance, Nevada remains on a strong path to recovery that would have never been possible without his determination and perseverance.
Culinary Union has been fighting and winning for working families for 87 years. We remain focused on bringing forward a strong economic agenda that continues to center workers.
—
ABOUT CULINARY UNION:
Culinary Workers Union Local 226 and Bartenders Union Local 165, Nevada affiliates of UNITE HERE, represent 60,000 workers in Las Vegas and Reno, including at most of the casino resorts on the Las Vegas Strip and in Downtown Las Vegas. UNITE HERE represents 300,000 workers in gaming, hotel, and food service industries in North America.
The Culinary Union, through the Culinary Health Fund, is one of the largest healthcare consumers in the state. The Culinary Health Fund is sponsored by the Culinary Union and Las Vegas-area employers. It provides health insurance coverage for over 145,000 Nevadans, the Culinary Union's members and their dependents.
The Culinary Union is Nevada's largest Latinx/Black/AAPI/immigrant organization with members who come from 178 countries and speak over 40 different languages. We are proud to have helped over 18,000 immigrants become American citizens and new voters since 2001 through our affiliate, The Citizenship Project.
The Culinary Union has a diverse membership which is 55% women and 45% immigrants. The demographics of Culinary Union members are approximately: 54% Latinx, 18% white, 15% Asian, 12% Black, and less than 1% Indigenous Peoples.
Culinary Union members work as: Guest room attendants, cocktail and food servers, porters, bellmen, cooks, bartenders, laundry and kitchen workers. The Culinary Union has been fighting and winning for working families in Nevada for 87 years.
CulinaryUnion226.org / @Culinary226
###