FOR IMMEDIATE RELEASE:
Saturday, December 17, 2022
MEDIA CONTACT:
Bethany Khan: bkhan@culinaryunion226.org ▪ (702) 387-7088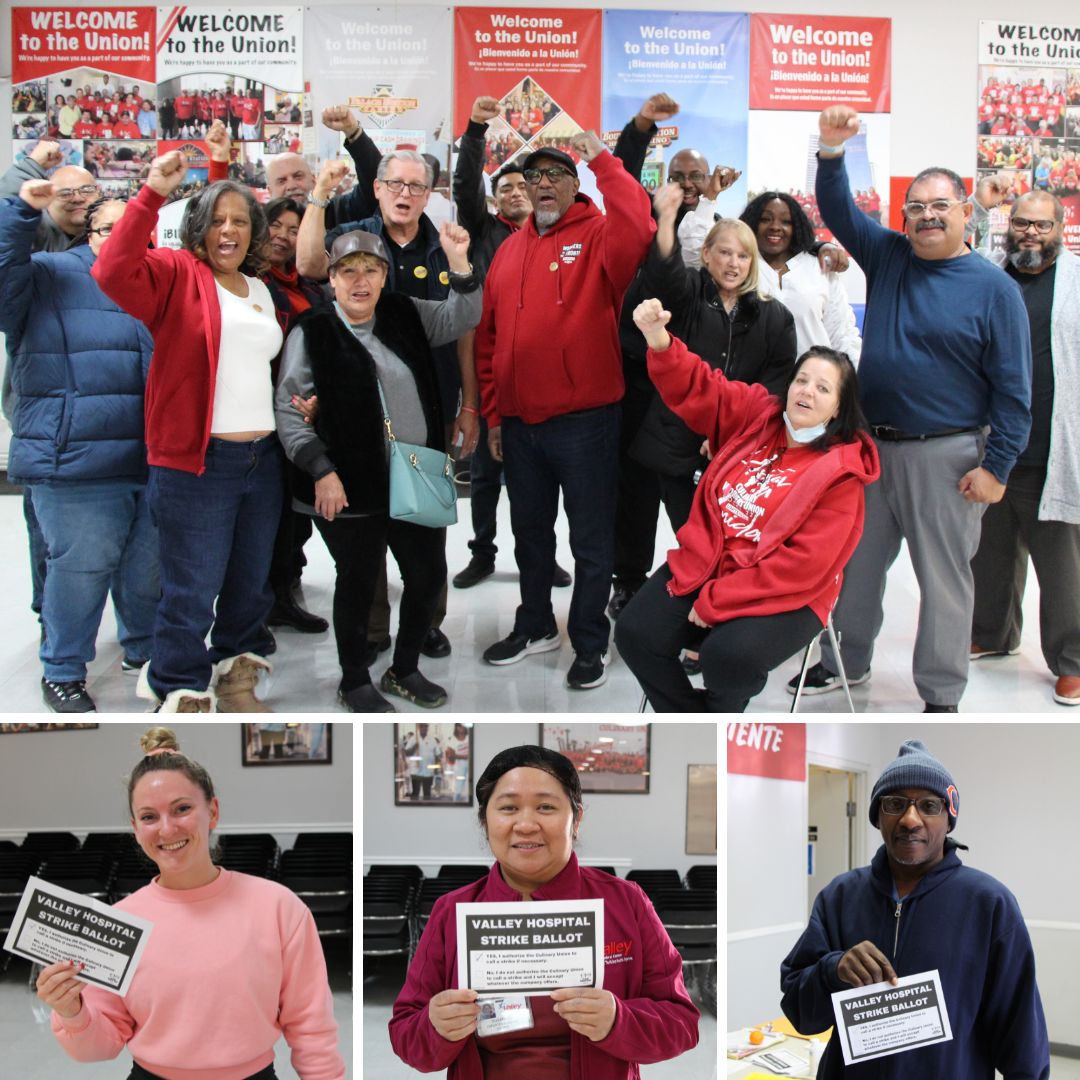 Culinary Union members at Valley Hospital vote 99% to authorize a strike
Las Vegas, NV – Culinary Union members employed at Valley Hospital voted on Friday, December 16, 2022 by 99% to authorize a strike. Culinary Union represents approximately 90 housekeeping, cooks, cashiers, kitchen workers, and stewards at Valley Hospital. Culinary Union, which is now authorized to call a strike if the contract has not been reached, has not set a date for a strike.
"In negotiations, Valley Hospital is trying to take away good union health care and they want the right to eliminate the worker's pensions. The members we represent worked very hard during the pandemic - they did everything the company asked them and made sacrifices. Valley Hospital has made incredible profits during the pandemic and now is the time to share some of that profit with their hardworking employees," said Ted Pappageorge, Secretary-Treasurer for the Culinary Union. "Workers are fighting to keep their Culinary Union benefits, pension, health care, get fair wage increases, and have job security. Workers voted today to authorize a strike and the Culinary Union will call for a strike if a good contract isn't reached soon. We call on Valley Hospital to come to an agreement on a new union contract that will protect workers."
"I voted yes to authorize a strike because we need to be able to keep our benefits including health insurance for my coworkers and our families," said Carlos Muñoz, a dishwasher at Valley Hospital for 18 years. "We are united and ready to fight until we win a union contract at Valley Hospital."
"I voted to authorize a strike to show Las Vegas that Valley Hospital is treating us unfairly and that's not right! We deserve to be treated with dignity and respect," Brenda Reyes, cafeteria worker at Valley Hospital for 5 years. "I have a 7-year-old son who has a speech delay and I work hard to provide for him, but it's hard when we haven't gotten a raise in years. Not having a contract means putting things on hold. I can't buy a home or get a car because I don't know what is going to happen and everything at work is insecure. Valley Hospital, this needs to be resolved and stop union busting - it's disgusting!"
"I voted to authorize a strike because I want a fair contract. I'm fighting for a raise and to protect my health care and pension benefits. I haven't gotten a raise in 6 years and my coworkers and I deserve one! I'm in the middle of trying to buy a home right now and I'm scared I won't be able to do it," said Brandi McMorris, a floor stock worker at Valley Hospital for 15 years. "I hope Valley Hospital does the right thing and agrees to a fair contract soon, if they don't, we are ready to go on strike."
Since the union contract has expired, Valley Hospital has fired 5 Culinary Union members who were leaders in their workplaces, including most recently, Thomas Burrell, a committee leader and long-time Culinary Union member. Valley Hospital for the second time this year, suspended the Culinary Union organizer from the property and interfered with the Culinary Union's right to access of workers and the unionized workplace.
Since 2017, Valley Hospital has made $1.5 billion in revenue and sent over $100 million to its out-of-state corporate office in King of Prussia, Pennsylvania. In the same time period, Valley Hospital has given its housekeeping and dietary workers $0 in contractual raises. Valley Hospital's national company, Universal Health Services (UHS), paid its CEO a total of $97 million from 2017 through 2021.
—
ABOUT CULINARY UNION:
Culinary Workers Union Local 226 and Bartenders Union Local 165, Nevada affiliates of UNITE HERE, represent 60,000 workers in Las Vegas and Reno, including at most of the casino resorts on the Las Vegas Strip and in Downtown Las Vegas. UNITE HERE represents 300,000 workers in gaming, hotel, and food service industries in North America.
The Culinary Union, through the Culinary Health Fund, is one of the largest healthcare consumers in the state. The Culinary Health Fund is sponsored by the Culinary Union and Las Vegas-area employers. It provides health insurance coverage for over 145,000 Nevadans, the Culinary Union's members and their dependents.
The Culinary Union is Nevada's largest Latinx/Black/AAPI/immigrant organization with members who come from 178 countries and speak over 40 different languages. We are proud to have helped over 18,000 immigrants become American citizens and new voters since 2001 through our affiliate, The Citizenship Project.
The Culinary Union has a diverse membership which is 55% women and 45% immigrants. The demographics of Culinary Union members are approximately: 54% Latinx, 18% white, 15% Asian, 12% Black, and less than 1% Indigenous Peoples.
Culinary Union members work as: Guest room attendants, cocktail and food servers, porters, bellmen, cooks, bartenders, laundry and kitchen workers. The Culinary Union has been fighting and winning for working families in Nevada for 87 years.
CulinaryUnion226.org / @Culinary226
###