FOR IMMEDIATE RELEASE:
Thursday, June 20, 2019
MEDIA CONTACT:
Bethany Khan: bkhan@culinaryunion226.org ▪ (702) 387-7088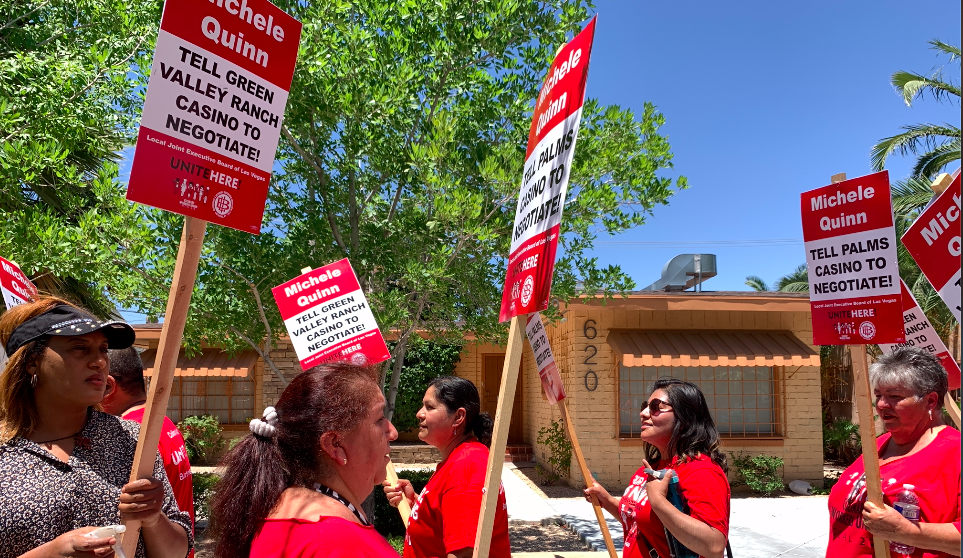 Culinary Union escalates nationwide pickets for contract negotiations at Palms Casino and Green Valley Ranch
Las Vegas, Nevada – Supporters of workers at the Palms Casino Resort and Green Valley Ranch Casino Resort will picket partners of Station Casinos' owners to demand that those partners convince Palms and Green Valley Ranch decision makers to follow federal law and negotiate a first contract immediately with their unionized employees.
"Over the course of organizing and fighting for a union, I've picketed, protested, and even fasted for seven days," said Michael Wagner, a bartender at Green Valley Ranch. "I want to have a union contract with fair wages, job security, good health benefits, and to be protected at work."
"Station Casinos said they would respect a secret-ballot vote and so a majority of us voted to unionize," said Showateshaye Kebret, a casino porter at the Palms. "I hope they weren't lying. It's time for Station Casinos to stop treating us like second-class workers and negotiate a contract now."
The Palms and Green Valley Ranch are owned and operated by Station Casinos, which is controlled by billionaire Trump donors Frank and Lorenzo Fertitta.
"Station Casinos always said it would respect the rights of its employees to organize and vote for a union," said Geoconda Arguello-Kline, Secretary-Treasurer for the Culinary Union. "Yet after workers voted to unionize by 78% at Green Valley and 84% at Palms, the company tried to overturn the elections and are now illegally refusing to negotiate."
The National Labor Relations Board (NLRB) ruled recently that Station Casinos should cease and desist its refusal to bargain at the Palms and Green Valley Ranch. The NLRB is currently seeking to have its orders enforced in the court of appeals while Station Casinos continues to unsuccessfully challenge the democratic unionization majority vote by its employees.
Federal labor law allows picketing of any business or individual associated with an employer for the purpose of making the employer honor the choice of workers to unionize through a NLRB election. A previously held first round of pickets by supporters of Green Valley Ranch and Palms workers in March 2019 and April 2019 targeted some associates of Station Casinos and the Fertittas, including the pro-Trump America First Action Inc., celebrity chefs and restaurants, and a law firm specializing in superyacht deals.
Those who will be picketed in the second round of solidarity actions over the next months include:
Nadeam Elshami, Nancy Pelosi's former chief-of-staff turned-lobbyist for Brownstein Hyatt Farber Schreck;
Scott Bensing of SB Strategic Consulting, a Reno-based lobbyist for Station Casinos;
Sipke Halbertsma of Feadship, the yacht company the Fertittas paid to build two super-yachts;
Michele Quinn of MCQ Fine Art, an art advisor to Station Casinos and the Fertittas;
Lenders to Station Casinos, including Citizens Bank, Bank of America, and UBS AG Stamford Branch;
Business partners of Fertitta Capital, the Fertittas' family office, including Joe Ravitch of the Raine Group, David Blitzer of Harris Blitzer Sports & Entertainment;
L.A. Reid of Hitco Entertainment, who along with co-founder Charles Goldstuck, received funding the month prior to Hitco's January 2018 debut from Colpire LLC, an entity associated with the Fertittas that means "hit" in Italian.
Initial picketing will be conducted by the following UNITE HERE affiliates: Local 26 in Boston; Local 25 and Local 23 in Washington D.C.; Local 217 in Stamford, CT; Local 355 in South Florida; Local 23 in Dallas; and the Culinary Union in Las Vegas and Reno.
Workers at six Station Casinos' Las Vegas properties are now unionized and fighting for a contract: Boulder Station (September 2016), Palace Station (March 2017), Green Valley Ranch (November 2017), Palms (April 2018), Sunset Station (June 2019), and Fiesta Rancho (June 2019).
###
--
ABOUT THE CULINARY UNION:
Culinary Workers Union Local 226 and Bartenders Union Local 165, Nevada affiliates of UNITE HERE, represent 60,000 workers in Las Vegas and Reno, including at most of the casino resorts on the Las Vegas Strip and in Downtown Las Vegas. UNITE HERE represents 300,000 workers in gaming, hotel, and food service industries in North America.
The Culinary Union has a diverse membership -- approximately 55% women, 54% Latinx, 19% White, 15% Asian, 10% Black, and less than 1% Indigenous Peoples — and consists of guest room attendants, cocktail and food servers, porters, bellmen, cooks, bartenders, laundry and kitchen workers. The Culinary Union has been fighting for fair wages, job security, and good health benefits for workers in Nevada for 84 years.